Panel Sizes:
50 mm thickness
(w) x (h)
1800 x 1800
1800 x 1200
1800 x 1500
1800 x 1700
1800 x 2000
1200 x 1800
(Perfect for DIY)
2000 x 1800
2000 x 1500
Interior fencing and Gates
25 mm thickness
(w) x (h)
1800 x 1800
All Panels are Pool Safety Certified
Other widths can be made on request

Roll Capping:
1800 mm
2000 mm
Hand Pack Bundles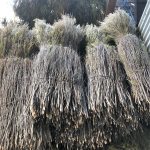 Solomit brushwood fencing is natural, durable and easy to install.

Solomit Brush Fence Panels
Provide a long lasting alternative to traditional fencing and walls.
Help breakup unwanted traffic noise.
Are well suited for the 'Do It Yourself' person.
Have a variety of applications.
Solomit brushwood fence panels will last from 20 to 30 years, and when installed correctly the panels will not rot or crack and are impervious to White Ants (Termites). Solomit brush fencing panels are machine compressed and stitched with galvanised wire, which provides a solid durable panel that helps break up unwanted traffic noise.
This makes Solomit brush fencing an attractive and cheaper alternative to brick fencing. Our manufacturing method produces a greater panel density and will last much longer than the hand packed brushwood fence.
Pool Fencing
Solomit panels are pool safety certified.
Make a relaxing look for your outdoor area.
Upgrade your current look with ease.
Panels can be framed to blend in with your pool decking.
Solomit brush fence panels have many applications. IMPROVE your gardens appearance, use the panels as a windbreak around your pool, bar-b-que or tennis court or hide that unsightly garden shed, incinerator or pool filter.
 Don't be fooled by cheap imitations
 Ensure your brushwood panels are
Australian Grown  Australian Manufactured
 Solomit Panels
Click Here For Stockists and Installers
Naturally Inspired Installation Guide 
Additional information
For ease of handling standard panels are 1800 wide although various width panels can be manufactured. There are three standard heights produced, the 1800 and 2000 high panels have 8 galvanised wires each side of the panel with individual galvanised staples holding the wires together. An identical wire and stitching method for the 1500 high panels, with only 7 wires across the panels.
The wire spacing allows for all size brush fence panels to be cut horizontally to 1000, 900 or 750 respectively, in heights across the face. The panel can be reduced in width to any size required and can be successfully butt joined end to end to give the appearance of one continuous panel. The 1800 x 1800 x 50mm nominal panel weight varies on seasonal conditions but is usually about 65 Kg per panel.
The density of the panel allows for various fixing methods to be used, screwing the panels directly on to the timber, post and rails, clipping to strained wires or fitting into a metal U frame system. All brush fences should always have a capping to protect the exposed top of the panels, whether this is a metal, timber or brush roll cap is a matter of personal choice.
We do produce a brush roll cap 1800 long that can be attached to the top once the panels have been installed. As with any project the end result depends on your willingness to put the time in to achieve the best result. The fixing for your project and attaching whatever capping chosen and the method required can be advised by our staff. For further information regarding Solomit brush panels or installation procedures, please contact us.
ACOUSTIC & ATTENUATION QUALITIES OF SOLOMIT BRUSH FENCING PANELS
Solomit has been manufacturing brush panels now for over forty years. The manufacturing process involves compressing the brush bundles into a very dense solid panel with specialized machines, and this is held firm by several wire bands. The nature of the brush materials is known to help break up the level of sound (acoustic quality), whilst some of the noise is reflected back in the direction of the source. There is also a known level of attenuation, that is where the sound penetrates through the panel to the other side.