The largest supplier of brushwood fencing and acoustic strawboard ceiling products in Australia.
Solomit cuts, mills and manufactures brushwood fence panels and straw ceiling panels right here in Australia using 100% Australian grown broombush and wheat stubble straw.
Click on the link below to download our latest brochure on Do It Yourself Brushwood Panel Fencing:
Click on the links below to download our Acoustic Ceiling brochures

Solomit Strawboard's products are environmentally friendly and 100% Australian Made…
Solomit brushwood panels provide a natural, durable and top quality alternative to more traditional fencing and screening methods.
Brushwood panel fencing also provides a long lasting alternative to traditional fencing and walls, provides noise absorption for traffic and other unwanted noise, is well suited for 'do it yourself' installation, and has a variety of applications.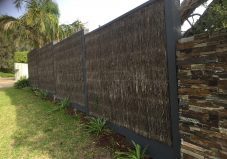 Acoustic Strawboard Ceilings
Solomit Strawboard ceilings provide a natural alternative to more traditional ceiling and screening procedures, and do so with some distinct advantages.
Acoustic Strawboard Ceilings provide effective noise reduction through sound absorption as well as providing a natural softness to a room or undercover area, it also reduces ceiling maintenance.